Main Content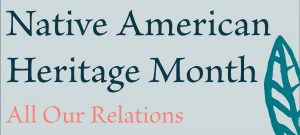 2020 Native American Heritage Month: All Our Relations
The Intercultural Center invite you to observe this year's Native American Heritage Month (NAHM). Wake Forest's 2020 Native American Heritage Month theme, All Our Relations, is a reference to Winona LaDuke's book of the same name that details Native resistance to environmental and cultural degradation. Indigenous people are defined by the kinship ties and lands from which they descend, and they view both people and the earth as relatives. Indigenous people have long used the philosophy of relationships and the politics of care as a means of resisting the isolation and disconnection caused by colonialism. Today, Native people use the belief that all people and all things are inextricably connected as a way to hold systems of inequality and injustice to account- being a good relative means seeking an end to the exploitation and oppression of all people and the land that sustains us.
Indigenous Culinary Celebration at the Pit
November 3rd, 10th & 17th
Stop by the Pit on Tuesdays in November to enjoy meals inspired by various indigenous cultures and regions. 
Land Acknowledgement Anniversary
November 4th
The Intercultural Center will be celebrating the one-year anniversary of Wake Forest's Land Acknowledgement Plaque dedication ceremony by sharing a Land Acknowledgment Statement that can be used by all members of the community to open events or gatherings at Wake Forest or affiliated events.
First Friday: Campus Adventure
November 6th @ 12pm
Native American history and landmarks can be found all throughout our campus. Use the clues provided on our Instagram page, @interculturalwfu, to learn more about how Wake Forest recognizes and depicts Native American people and cultures. 
My Shelf to Yours: Native American Heritage Month Edition
November 9th @ 12pm (Registration Required)
Storytelling is an extremely important tradition among many indigenous cultures throughout the Americas. Sign up to choose a book by an indigenous author to learn more about Native people, histories, and issues. Please register at this link.
Just One Word
November 9th
Just One Word allows a select group of students to explore their relationship to a particular concept or term, using their individual definitions to arrive at a better collective understanding of each other and the term. Invitation Only.
iLab Lunch n Learn
November 16th @ 12pm
The Intercultural Center will host Christy L. Oxendine (M.Ed., M.Div), a PhD candidate at Iowa State University, as she shares her research and knowledge of the impacts of educational systems and policies on indigenous people in the United States. She will also discuss decolonization, its meaning, and application to educational practices and settings. Register here.
Beading Workshop
November 19th  @ 5PM
Beadwork is a prized traditional art among tribal nations across the United States. Learn the basics of how to create jewelry and other objects using beads and a needle and thread. Register to reserve your supply kit and follow us @interculturalwfu on Instagram for the live tutorial video. Register here.
MMIW Gallery 
All Month
The Missing and Murdered Indigenous Women movement is dedicated to raising awareness of the epidemic of violence against Native women across the US and Canada. The Red Dress Project was conceptualized and created by Wake Forest senior Jennifer Benavides to recognize and honor the thousands of indigenous women who have gone missing or been murdered in our country. Visit the display in the Benson Rotunda on the third floor to learn more about the injustices Native women face.