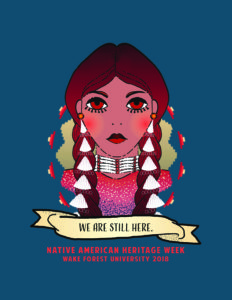 2018 Native American Heritage Week: We Are Still Here
The 2018 Native American Heritage Week will show the campus community that "We Are Still Here". Native American and other indigenous-identifying students do exist on campus, and it is important that our culture is showcased, but also that other students get the opportunity to learn more about a group of people that is often not represented in mainstream media, academics, and politics. Through a curated series of events, the Native students at WFU want to encourage and empower our peers to diligently acknowledge the first people of the Americas and become familiar with the sovereign nations that still exist today. In doing so, we hope to build a community that is dedicated to reconciliation, progress, and truth.
---
We Are Still Here: Past, Present & Future
Benson University Center Rotunda (3rd Floor)
To celebrate the inaugural Native American Heritage Week, we will display prominent Native American leaders from the past, present and future.
Sponsored by the Intercultural Center & Native American Student Association
Life After Death: The Day of the Dead in Mexico
Museum of Anthropology
Visit the Museum to learn about the indigenous roots of the Day of the Dead through a bilingual exhibit featuring skeleton folk art, ofrendas, and an opportunity for students to contribute how they celebrate the holiday. Tuesday-Saturday, 10am – 4:30pm
Sponsored by the Museum of Anthropology
---
Monday Events:
Cherokee Trail of Tears Documentary
November 5 @ 7:30pm
ZSR Library (Rm. 477)
This event will showcase two twenty-minute documentary perspectives on the Cherokee Trail of Tears. Seen together, the films invite audience dialogue about the impact and legacy of the forced removal of Native nations from the Southeast. US removal policies displaced an estimated 70,000 American Indian men, women, and children in the first part of the nineteenth century as an intentional act of ethnic cleansing. The first documentary has been prepared by the National Park Service to explain the Trail of Tears National Historic Trail. The second documentary is produced by the Cherokee Nation and describes the Cherokee "Remember the Removal" Annual Bike Ride.
Sponsored by the Intercultural Center & the Native American Student Association
---
Tuesday Events:
Jingle Dress
November 6 @ 3pm
3rd Floor Benson Rotunda
What is a jingle dress? What is its significance? Stop by to learn the answers to these questions and make your own jingle.
Sponsored by the Women's Center & Intercultural Center
Just One Word (Invitation only)
November 6 @ 5pm
"Just One Word" is a moderated dialogue that takes place over a meal, during which participants share their understanding and experience of a specific word.
Sponsored by the Office of Diversity & Inclusion – Diversity Education
---
Wednesday Events:
Blind Date with a Book
November 7 @ 12pm
Intercultural Center (Benson 346)
Because we tend to judge books by their covers, this event is all about what's inside the books. Each book, written by Native American authors and/or with Indigenous themes, will have the covers wrapped and will only include a short summary. Come learn more about Native American literature and take a book home with you.

Sponsored by the Intercultural Center
---
Thursday Events:
Indigenous Foods in the Pit
November 8 @ 12pm & 4pm
The Pit
The Pit will offer various Native American foods at both lunch and dinner to celebrate indigenous cultures and Native American Awareness Week.

Sponsored by the Pit
Keynote Speaker: Environmental Justice and Indigenous Communities in North Carolina
November 8 @ 6pm
ZSR Library (Rm. 404)
In the Southeastern United States, indigenous communities are often omitted from discussions about environmental justice. These omissions permeate public policy and have serious implications for Native American tribes living in the region today. A case in point is the proposed Atlantic Coast Pipeline, a 600-mile long fossil fuel pipeline that would impact several Native American tribes in the southeastern US. This talk focuses on the efforts of tribes, organizations, and individuals currently working to voice indigenous concerns about environmental justice and other topics related to this major infrastructure project.
Ryan Emanuel is an Associate Professor and University Faculty Scholar in the Department of Forestry and Environmental Resources at NC State University.
Sponsored by the Intercultural Center & Native American Student Association
---
Friday Events:
Herbal Teas and Traditional Remedies
November 9 @ 11:30am-12:30pm
Benson University Center

In recognition of the Intellectual dimension of wellbeing, the Office of Wellbeing is hosting a Native American traditional teas tasting. Students, faculty, and staff will learn the processes of making the teas and the sustainable and health benefits of each flavor. Our hopes is to spark your curiosity and intrigue you to explore traditional remedies that were and are used in Native American culture.
Sponsored by the Office of Wellbeing & Intercultural Center