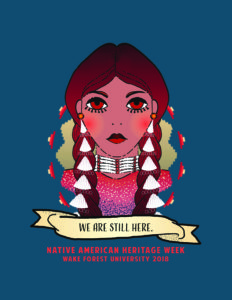 2018 Native American Heritage Week: We Are Still Here
The 2018 Native American Heritage Week will show the campus community that "We Are Still Here". Native American and other indigenous-identifying students do exist on campus, and it is important that our culture is showcased, but also that other students get the opportunity to learn more about a group of people that is often not represented in mainstream media, academics, and politics. Through a curated series of events, the Native students at WFU want to encourage and empower our peers to diligently acknowledge the first people of the Americas and become familiar with the sovereign nations that still exist today. In doing so, we hope to build a community that is dedicated to reconciliation, progress, and truth.
EVENTS COMING SOON….