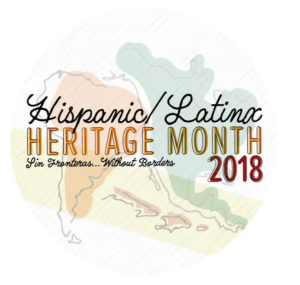 2018 HLHM Event Calendar
All Month
Notable Hispanic/Latinx Jewish People Poster Display
Sponsored by Chaplain/Jewish Life, Hillel
Benson University Center
Learn more about notable people of Hispanic/Latinx descent that are also in the Jewish community.
All month
Life After Death: The Day of the Dead in Mexico (exhibit)
Sponsored by Museum of Anthropology
Ongoing, Tues-Sat. 10:00am-4:30pm
The MOA's annual exhibit celebrates the unique Mexican observance of the Day of the Dead. This year's exhibit will provide faculty, staff, and students with an opportunity to tell how they celebrate Dia de los Muertos.  Exhibit text is in English and Spanish.
9/18/2018
Latinx Student, Faculty, & Staff Reception
Sponsored by Intercultural Center, Office of Diversity and Inclusion
4:00pm, Carswell Hall 212
The Intercultural Center and the Office of Diversity and Inclusion will host a mixer for Latinx students, faculty, and staff to get to know each other.
9/19/2018
OLAS Lounge Grand Opening
Sponsored by Organization of Latin American Students
2:00pm, OLAS Lounge (Piccolo Hall)
We are welcoming all who want to celebrate the opening of our lounge! There will be food and music, so come and celebrate.
9/19/2018-9/26/2018
Diaz Lewis: 34,000 Pillows
Sponsored by Latin American and Latino Studies
Ongoing, SECCA
Part of an ongoing national project developed by artists Alejandro Figueredo Diaz-Perera and Cara Megan Lewis to draw attention to the immigrant crisis. In a collaborative, performance-based installation at SECCA, Diaz and Lewis will engage participants to create pillows from clothing donated by undocumented immigrants, former detainees, and their supporters. Proceeds from the sales of the pillows will go to non-profits that provide alternatives to detention.
9/19/2018
Intercultural Snacks
Sponsored by Intercultural Center, Organization of Latin American Students
11:30am, Benson University Center 346
Stop by the Intercultural Center to learn about our student groups and enjoy snacks that celebrate different cultures.
9/20/2018
Tear Down Walls, Build People Up!
Sponsored by AES & Sociology Departments, UndocuDeacs
6:30pm, Z Smith Reynolds Auditorium Room 404
A collaborative event between AES & Sociology departments, UndocuDeacs, SOA Team – to bring an insight to the reality behind the border wall, detention centers, and Policy that affect the border communities.
9/21/2018
10th Annual World Cultural Festival
Sponsored by Intercultural Center, Global Programs & Studies, Student Activity Fee
5:30pm-8:00pm, Manchester Plaza
Come enjoy various cultures from around the world through creative displays and activities, a variety of foods, information about student organizations, and several performances!
9/22/2018
FIESTA 2018
Sponsored by The Hispanic League
11:00am-7:00pm, Milton Rhodes Center for the Arts
Organized by the Hispanic League, FIESTA is the annual FREE street festival which has become a downtown tradition in Winston-Salem and is the biggest fundraiser for the Hispanic League, expecting over 22,000 people each year. All the funds raised from FIESTA sponsors, vendors, and donations- support cultural, health, education, and college scholarship programs for the Hispanic/Latino community year-round. Expect food and music from many countries representing Latin America!
9/26/2018
Latinx/Hispanic Women Dialogue
Sponsored by Women's Center, Intercultural Center
5:00pm, Benson 314
Meet other Latinx/Hispanic women, build community, and discuss your experiences at Wake Forest University.
9/25/2018
Blind Date Con un Libro
Sponsored by Intercultural Center, OLAS, Student Activity Fee
12:00pm, Intercultural Center (Benson 346)
Because we tend to judge books by their covers, this event is all about what's inside the books. Each book, written by Latinx authors and/or with Latinx themes, will have the covers wrapped and will only include a short summary. Come learn more about Hispanic/Latinx literature and take a book home with you.
9/27/2018
SoCo (Southern Cone) Info Session
Sponsored by Latin American and Latino Studies, Global Programs & Studies
4:00pm-5:00pm, Kirby 120
Dr. Siavelis, staff from the Study Abroad office and students that participated on the program will be available to present details about the two programs WF offers in Santiago, Chile.  Students attending will have a chance to find answers to any questions they may have about the program, requirements, deadlines, and cost as well as hear the testimonies of students who were part of the program on past semesters.
9/27/2018
Musical Presentation:  Tango
Sponsored by Latin American and Latino Studies
6:00pm-8:00 pm, Benson Reece Gallery
A group of musicians directed by Lorena Guillen will perform Tango, typical of Argentina followed by a discussion and a small reception.
9/28/2018
Friday Morning Breakfast
Sponsored by Intercultural Center
8:45am, Benson 346 (Intercultural Center lounge)
Kick back and enjoy your favorite throwback shows with FREE breakfast.
10/1/2018-10/5/18
Fiesta at the Pit
Sponsored by OLAS, The Pit, Aramark
Lunch time, The Pit
This entire week the pit will by highlighting a traditional South American dish for your enjoyment! The food can by found by the "Mongolian Grill" at the Pit.
10/1/2018-10/5/2018
Queer Latinx Activists and Advocates Gallery
Sponsored by LGBTQ  Center
Ongoing – display location TBD
The LGBTQ Center is creating a set of posters highlighting the lives and work of LGBTQIA identified Latinx activists and advocates, which will be displayed through the week of October 1-5
10/2/2018
The Bandana Project
Sponsored by Intercultural Center and the Safe Office
5:00pm, Intercultural Center Lounge
The Bandana Project is an initiative that was launched to raise awareness of sexual harassment faced by farmworker women. Students will gather for discussion and to make bandanas as a show of solidarity for farm workers who have experienced sexual violence.  Confidential advocates from the Safe Office will be available for support.
10/3/2018
Latinx/Hispanic School of Business Alumni Panel 
Sponsored by School of Business
12:15pm BCC (School of Business)
Join WFUSB in recognition of Latinx/Hispanic Heritage Month! On October 3rd, 2018 in the BBC, ISS is hosting a Latinx/Hispanic School of Business Alumni Panel. Stop by at 12:15pm to network with Wake Forest School of Business alum, learn about their story, career journey and and much more! This event will be facilitated by Dr. Montague. Lunch will be provided! RSVP using this link: https://wakeforest.qualtrics.com/jfe/form/SV_42AabutFyYu9DJr
10/3/2018
C3: Queer Latinx Community and Advocacy
Sponsored by LGBTQ Center
3:00pm-4:00 pm, LGBTQ Center (Benson 311)
C3: Building Community over Coffee and Conversation is a weekly program in the LGBTQ Center, each exploring a different topic. This session will focus on the experiences of people identifying at the intersections of being LGBTQ and Latinx.
10/3/2018
Just One Word (invite only)
Sponsored by Office of Diversity & Inclusion – Diversity Education, Intercultural Center
5:00pm
"Just One Word" is a moderated dialogue that takes place over a lunch or dinner, during which participants share their understanding and experience of a specific word. By invitation only.
10/7/2018
Soul Food Fiesta
Sponsored by Organization of Latin American Students, Black Student Alliance
5:30pm, Benson 401
We will bring together students from different cultural backgrounds to enjoy some traditional Latin American + soul food. As well as enjoying a delicious meal, we seek to engage in dialogue that will help bring our communities closer.
10/9/2018
Provide and Thrive
Sponsored by University Counseling Center, Intercultural Center
12:00pm, Intercultural Center (Benson 346)
Join the Intercultural Center and the Counseling Center as we spend time debunking myths related to counseling.  Additionally, we will address some of the roadblocks that prevent people of color from addressing their mental health concerns.
10/10/2018
Salsa Dancing
Sponsored by Office of Wellbeing, Intercultural Center, Ritmo Latino
4:00PM, Reynolds Gym
This program will be a salsa dance class for faculty, staff, and students.