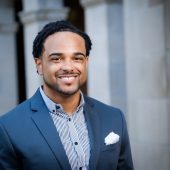 Jonathan A. McElderry, Ph.D.
Assistant Dean of Students and Executive Director, Intercultural Center
mceldeja@wfu.edu
Dr. Jonathan A. McElderry (he/him/his) has served as the Assistant Dean of Students and the Executive Director of the Intercultural Center at Wake Forest University since June 2016. Additionally, he serves as an affiliate faculty member in the University's Department of Counseling.
His research has sought to raise awareness of the experiences of underrepresented students at predominantly White institutions and provide strategies to increase their academic and social success. His professional activities include holding several leadership positions within the American College Personnel Association (ACPA); serving as a Co-Lead Facilitator for the LeaderShape Institute; interning with the Social Justice Training Institute (SJTI) and a standout scholar-practitioner, who has authored/co-authored research articles, book chapters, and mainstream resources. Most recently, Dr. McElderry was elected as the Director of Equity and Inclusion for the ACPA Governing Board and was named a 2020 Annuit Coeptis Emerging Professional by the association.
Dr. McElderry holds a Ph.D. in Educational Leadership and Policy Analysis from the University of Missouri, an M.Ed. in College Student Personnel from Ohio University, and a B.S. in Administration of Justice from George Mason University.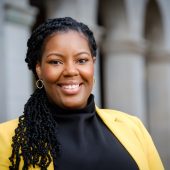 Shannon Ashford, M.Ed.
Senior Associate Director
ashforsk@wfu.edu
Shannon (she/her/hers) is an educator and facilitator whose work and expertise meet at the intersection of diversity and inclusion and leadership development. Her passion is to connect and develop individuals in order to create inclusive and equitable spaces. As the Senior Associate Director, she oversees the development and facilitation of workshops, trainings, and programming centered around cultural competence development and inclusive practices to students, faculty and staff.
She brings a decade of experience in diversity and inclusion, campus activities, leadership development, college access, and nonprofit management. Her professional activities include holding volunteer leadership positions with the National Association for Campus Activities and has presented at conferences across the country. Additionally, she serves as a Co-Lead Facilitator for the LeaderShape Institute.
Shannon earned her Bachelor of Science in Journalism (Public Relations) from Ohio University and a Master of Education in Higher Education Administration & Student Personnel from Kent State University and holds a Certificate of Nonprofit Management from Case Western Reserve University.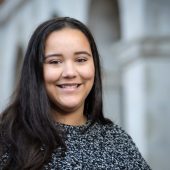 Savannah Baber, B.A.
Program Coordinator
babesj15@wfu.edu
Savannah (she/her/hers) serves as the Program Coordinator for the Intercultural Center. She is a proud graduate of Wake Forest and earned her B.A. in English and Politics & International Affairs. A citizen of the Lumbee Tribe of North Carolina and the Chickahominy Tribe of Virginia, Savannah was the first Wake Forest student to be named a national Udall Scholar for her work and research in tribal public policy. 
Savannah is passionate about advocating for students of color and increasing cultural competency within institutions of higher education. A native North Carolinian, she loves exploring and being a member of the Winston-Salem community.